Weight loss programs I plan to follow:
Vegan – I asked my heart doctor if it would be better to do low carb or vegan. He said vegan. And it was wonderful, I was going to get off my meds, but this did not last either.
Forks over Knives was the reason for starting. I read the website, watched the dvd and even read part of the book. What really convinced me was about during the war, people did not have any meat, lived off the veggies, and fatality rates went down. As soon as they had meat again, fatality rates went back up.
You can watch Forks Over Knives on Netflix.
I had this down to what I ate each day. I even knew what to eat at restaurants. I was always cheating (a little) each day, but was still losing weight and feeling better. But over time, eating out got harder to stick to it. I finally realized I was not anywhere near vegan.
A typical day I can remember:
Breakfast: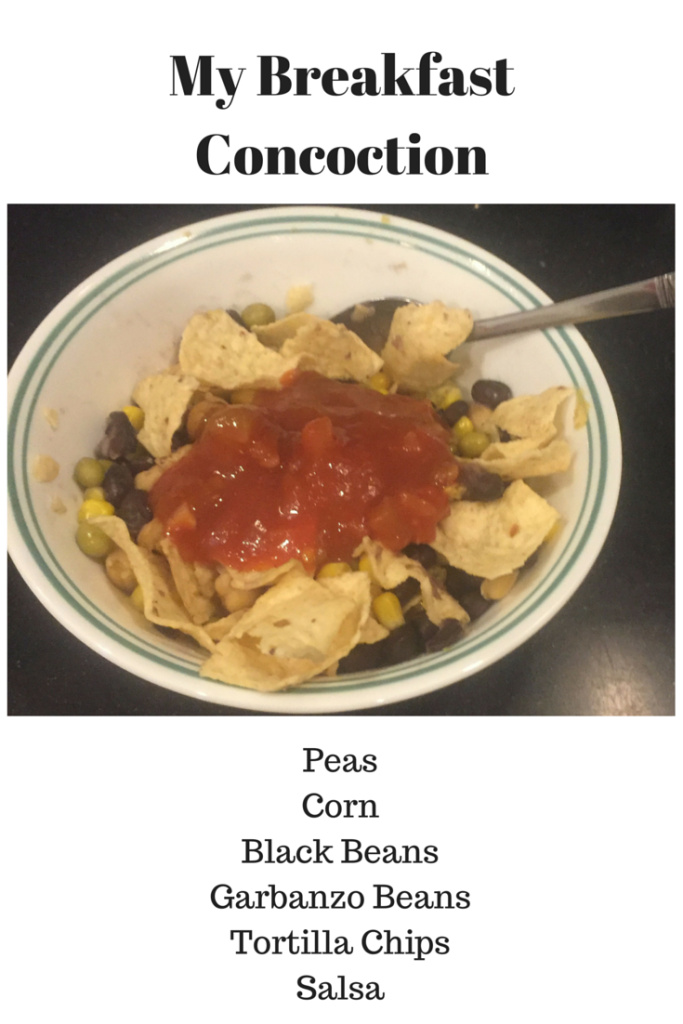 Either a baked potato with salsa and humus
Or my concoction with salsa and tortilla chips:

Peas
Corn
Dark bean (black bean or kidney bean)
Light bean (pinto bean or garbanzo bean or another like that)
Lunch
Peanut butter and jelly sandwich
Dinner
Snack
Cashews (salt free) and raisins
Restaurant choices;
Wendy's – side salad and baked potato (cheat was the sour cream)
Taco Bell – Bean and rice burrito (cheat was cheese) Now they have cheesy bean and rice burrito.
I would also make vegan chili with lots of cans of different veggies. My dad calls it chili soup when I make it. Sometimes it turns out tasting good, but last time it was not so good. I will need to write down the original recipe if I can figure it out again.
So here I go again. Going to work on eating vegan, but know that I will cheat. I always said I was transitioning to Vegan. No need to comment that I am not fully vegan, just working close to that.
To really confuse things though, I have ordered a book from Dr Axe. One of the bonuses for ordering his new book, was a free download of his cookbook. So along the way, I will be eating some of his recipes. I just need to get to the store to stock up.
So here is what I am eating/drinkng.